MEET

OUR TEAM
Fulham Dental
MEET OUR DENTISTS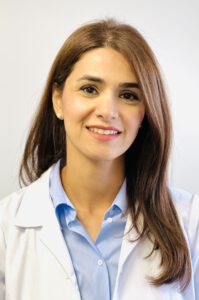 Dr. Fereshteh Dehghan
Dr. Fereshteh is a passionate dentist with more than a decade of clinical experience. She employs the latest technologies to provide patients the very best care and the greatest possible comfort. Patients describe Dr. Fereshtah as a great listener, and a kind, easy-going practitioner. Dr. Fereshteh's dental philosophy focuses on good attentive care and diligent prevention to avoid future dental emergencies. In addition to general dentistry, Dr. Fereshteh is well-versed in dental implants, gum surgery and cosmetic treatments.
Dr. Fereshteh graduated with distinction from the University of Tehran in 2008, and later received a specialization in Periodontology. She is an accomplished dental academic, becoming a University lecturer as well as a practitioner. Dr. Fereshteh is certified by the National Dental Board of Canada, an active member of the Royal College of Dental Surgeons of Ontario, and member of the Ontario Dental Association. Outside of dentistry, Dr. Fereshteh enjoys exploring the great Canadian outdoors, cooking, and enjoying time with family and friends.
Dr. Mahmoud Shamaei
Dr. Shamaei has 30 years of experience in dentistry with over 2000 successful dental implant placements. After graduating in general dentistry at Tehran university in 1990, he then pursued his specialization in Periodontology at Shahid Beheshty University and awarded a Masters in degree in Periodontics in 1996. He was awarded a fellowship in implantology in 2005. He is a member of Royal College of Dental Surgeons of Ontario, Canadian Dental Association and Ontario Dental Association. He received his fellowship and Diplomate degree from the international Congress of Oral Implantologists in 2013.
Dr. Shamaei is certified as a general dentist in Canada, but he has a special interest in dental Implant, wisdom tooth surgery, tooth extraction and gum surgery. He is passionate about providing the best care for his patient. He is eager to listen thoroughly to your concerns and looks forward to finding tailored solutions. He is known for his calm and friendly personality putting his patients at ease.
On his free time, he can often be found in the kitchen cooking up a storm for his friends and family. He is also an avid skier, off-road biker, and goes to the gym several times per week. He enjoys spending time with his Family.
Sarah Tkachuk
Sarah Tkachuk has been working as a registered Dental Hygienist since 2007, and has been working with our dental care team since 2003. A Durham College graduate, Sarah continued her training to grow from our front desk receptionist to become a Certified Level II Dental Assistant, and on to become the outstanding Dental Hygienist she is today. Sarah is a familiar face at Fulham Dental and is beloved by Clients. She is an excellent practitioner with a warm smile. She truly cares about our patients and puts them first. Outside of work, Sarah enjoys time outdoors and being with her family and friends.
FIND OUT HOW WE CAN HELP YOU ACHIEVE YOUR GREATEST SMILE!